For some reason today I've been receiving a huge influx of web traffic from France. Apparently there's a discussion out there about my Washburn N4 and the fact it was once owned by Nuno Bettencourt. So to all my French friends visiting my site for the first time, welcome, take a look around, enjoy the tunes, and yes.... it was Nuno's guitar, he did sell some of his guitars back in the day. He sold it to Guitar Center in Boston in 2000, which is how I got it. . My guitar is sn#9308180. If you're interested the other 3 guitars Nuno sold that day were a natural N4, sn#9582064(never seen it on-line), a Korina N4 sn#9403071 (which pops up on Ebay from time to time) and a custom N2 sn# 1180002 (A Guitar Center employee, who sold me mine, bought that one). So, there you go...

This past month I've been busy working on a bunch of updates to the Effects Pedal section, as well working on host of Youtube videos showcasing my gear. The first one released last week was a demo of my Analogman DS-1 vs Fulltone OCD. Check it out, it's much more professional looking than my Warmoth Video. My next one will hopefully be a demo of the Demeter Silenet Speaker Cabinet.


Also, you may have noticed a rise in the amount of ads on Erik Z Music.com. The truth is I added those to help make a little extra money. For the most part if you click on something and then buy anything I make like a 1% or 2% commission. It's not great, but it's all gear I truly believe in and use, so I might as well steer all you in the right direction, while at the same time helping to fund Erik Z Music.com. It's a win win situation. So feel free to click on any of the Analogman or B&H photovideo ads. Help a brother out.


As always.... I'm still working on new music. Slowly, but it's coming along. So keep checking back. Until then, I'm still chilling on the back porch drinking beer and playing my cheesy little amp...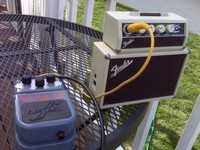 Thanks for visting.


Erik